Bug

Major - P3
Hello,
I know that there is support from UUID in 1.20-beta. I am using this version and I realize that UUID works well everywhere else but while importing a new pipeline from text it is not recognized.
So as workaround I have to remove UUID while importing and once piepline is imported I have to change it manually.
Rproduction step is simple :
1) Use "create pipeline from text"
2) Paste a pipeline using UUID
3) Error message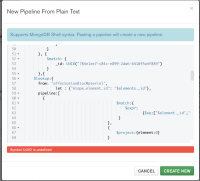 LEt me know if more information is needed.
Issue Links
is related to

COMPASS-4264 Unable to create new document fields of type UUID

Closed